UMD Resilience Experts Offer Insights Throughout Active Atlantic Hurricane Season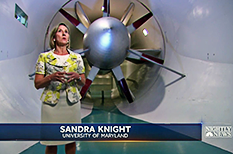 Last week marked the end of the most active Atlantic hurricane season since 2005, according to the National Oceanic and Atmospheric Administration. With 17 named storms, including six major hurricanes, the season also ranks among the most active in records dating back to 1851.
National and local news outlets turned to University of Maryland engineers for their flooding and disaster resilience expertise throughout the season. Senior Research Engineer Sandra Knight, Research Professor Gerald Galloway, Assistant Professor Allison Reilly, Professor Bilal Ayyub, and Senior Research Engineering Ed Link, all of the Department of Civil and Environmental Engineering and Center for Disaster Resilience, were interviewed by The New York Times, the Los Angles Times, CBS This Morning, and more.
Read and watch more at the links below.
Hurricane Harvey
Hurricane Irma
A Local Look
Media interested in contacting Center for Disaster Resilience experts are encouraged to email Anjanette Riley, Communication Coordinator, at ariley12@umd.edu.
Published December 5, 2017