Ayyub Named One of ENR's 2017 Top 25 Newsmakers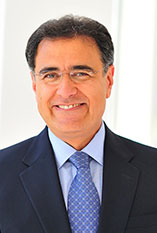 Department of Civil And Environmental Engineering Professor Bilal Ayyub is among the individuals recognized by Engineering News-Record (ENR) for contributions to the construction industry and the public in 2017. Ayyub, who is also an affiliate of the Center for Disaster Resilience and the director of the Center for Technology and Systems Management, was selected for the latest class of ENR Newsmakers because of his leadership on a new manual of practice that will help engineers design infrastructure more resilient to extreme weather.
The manual will be released by the American Society of Civil Engineers (ASCE) Committee on Adaptation to a Changing Climate later this year. The committee hopes to see the manual adopted as an ASCE standard and incorporated into building codes.
Ayyub is a member of the National Academies panel charged with reviewing the fourth National Climate Assessment, a distinguished member of ASCE, and a fellow of the Society for Risk Analysis, the Structural Engineering Institute, the American Society of Mechanical Engineers (ASME), and the Society of Naval Architects and Marine Engineers. He is the recipient of several awards from ASCE, ASME, the American Society of Naval Engineers, the North American Fuzzy Information Processing Society, the Department of the Army, and Governor of Maryland.
He has authored and co-authored more than 600 publications, including eight textbooks and 14 edited books. Ayyub is also the editor-in-chief of the ASCE-ASME Journal of Risk and Uncertainty in Engineering Systems.
Published January 18, 2018