New Graduate Fellows Work to Improve Structural Resilience and More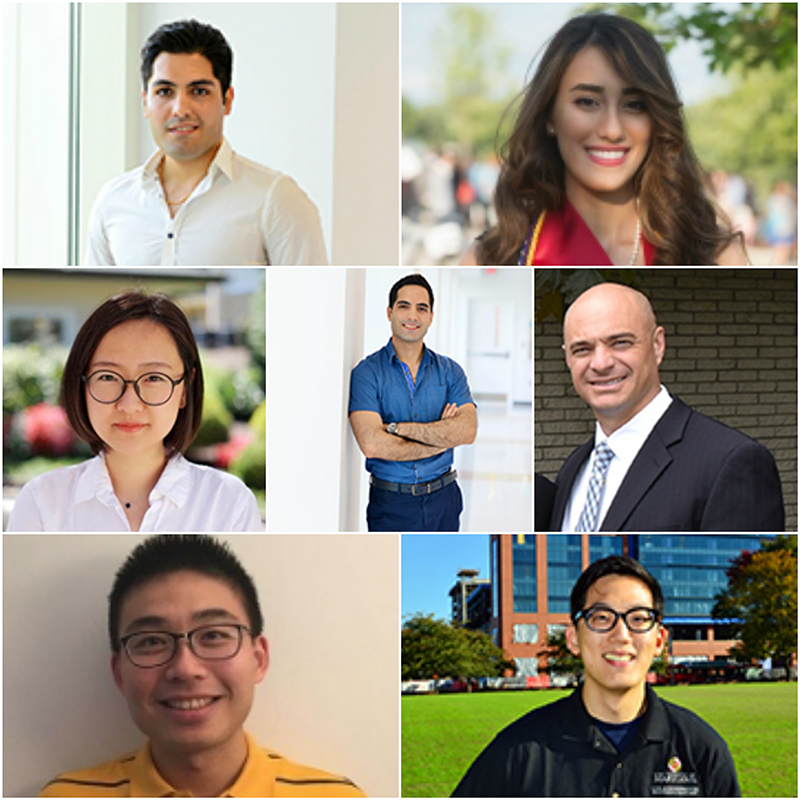 The Department of Civil and Environmental Engineering has announced the recipients of six merit-based graduate fellowships made possible through donor investments. The awards will enable the master's and doctoral students to advance their research into ways to improve structural resilience, road quality, and landfill covers.
Ashkan Keivan, the newest Harkins Group Fellow, will leverage the financial support to further his work on a leading-edge approach to further protect buildings with seismic control technologies at the base of the structure or integrated between floors. His method combines two simple and commonly used strategies to replicate the behavior of rate-independent linear damping—a sort of shock absorber system that can't itself be ideally applied in the real world. He travelled to Japan in 2015 to test the approach with shake table testing, further verifying the results from simulations conducted in College Park. A native of Iran, Ashkan came to the University of Maryland (UMD) from Chicago, where he earned a master's at the Illinois Institute of Technology.
Like his brother, Arshia Keivan started his doctoral career at UMD in 2014 with a focus in earthquake engineering. Arshia's work, though, is on the structure itself. With support from the Stanley R. Zupnik Fellowship Fund, he will spend the next year fleshing out the design for two new kinds of structures with flexible frames. The structures are stronger and stiffer than conventional buildings, and any damage from an earthquake is confined to replaceable technology designed to dissipate extra energy, reducing structural repair and loss-of-use costs after an earthquake. Arshia's interest in structural engineering began at a young age after more than 25,000 people in southeastern Iran were killed in the Bam earthquake
Recipient of the Rattan L. Khosa '71 Graduate Scholarship in Structural Engineering, Jingzhe Wu was first drawn to structural seismic control and damage by the multidisciplinary nature of the field. Her work now focuses largely on design testing. Seismic fragility—or the likelihood that a structural component or system will fail to perform as planned in an earthquake—is typically tested through simulations to allow for repeated analysis. These simulations, though, can't capture the behavior of some critical parts of a structural system. Wu's research would knit this traditional technique with tests on a physical model to more accurately capture system performance. Wu completed her undergraduate degree at Hefei University of Technology in China before joining CEE.
The inspiration for Heng Liu's research came from an unlikely source. The Chinese native and Bechtel Fellow was watching the computer program AlphaGo compete against the best Go player in the world in 2015 when he decided to harness artificial intelligence to bolster infrastructure resilience. Today, Heng is developing an automated damage detection framework that consistently pinpoints areas in need of repair after a disaster. The tool could supplement or replace manual inspections that vary in accuracy and can't examine hard-to-reach places.
Paul Magoulick, a former Navy Civil Engineer Corps Officer and veteran of Afghanistan and Iraq, will also use the support provided by the Lieutenant General John W. Morris II Graduate Fellowship to continue research into improving infrastructure system performance, with a focus on multi-risk analysis and climate change adaptation.
With support from the Dr. Matthew W. Witczak Graduate Award, Zahra "Niosha" Afsharikia and Sung Ryoo will spend 2018 delving further into their geotechnical research.
Afsharikia, a graduate of Iran's Sharif University of Technology, is developing a new methodology and specifications for ensuring road bases and subgrade compactions meet quality standards. Her results could save the Maryland Department of Transportation State Highway Administration roughly $50,000 a year in operating costs.
Ryoo's work, in contrast, focuses on the material makeup itself. Along with Professor Ahmet Aydilek, he is testing how a two-layer landfill cap performs under wet conditions. The tests will confirm whether the layers of compost and sand and gravel are able to effectively stabilize the soil and encourage vegetative growth. His results could be used by geotextile manufacturing companies to improve their products. Ryoo completed his B.S. at UMD, during which time he was active in the university's American Society of Civil Engineers and Chi Epsilon honors society, and is slated to complete his master's in 2018 through the combined B.S./M.S. program.
Published January 11, 2018